Rob Deal's Smoked Chocolate Brownies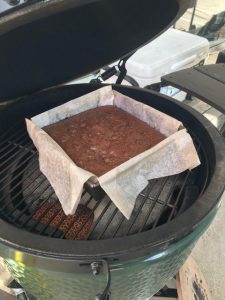 Our resident Pitmaster Rob Deal is always experimenting with his Big Green Egg smoker, and his recipe for smoked brownies is truly incredible. Smoking baked goods may sound a little out there if you've never tried it, but the smoke works so well with the brownies that you'll wish you'd known about this sooner.The richness of the chocolate combined with the addictive smokiness will mean you can't stop at one – in fact, you'll want to eat the whole batch in one go! If you would like to check out our range of premium Big Green Egg smokers that are perfect for this recipe, click here.
Ingredients:
225 grams dark chocolate (minimum 70% cocoa solids)

225 grams butter

2 teaspoons vanilla extract

200 grams caster sugar

3 large eggs (beaten)

150 grams almond meal

100 grams chopped pecans

A Generous handful of wood chips (to be added to the smoker/barbecue for that smokey flavour!)
Method:
Soak your woodchips in water for 45- 60 minutes. Doing this makes them nice and moist, ensuring that when put on top of your hot coals, they're less likely to catch fire and will smoke and smoulder away slowly. Now is the perfect time to preheat your Big Green Egg Smoker (or similar) to 160°C. Ensure you utilise a ConvEGGtor for an indirect cook.

Whilst waiting for your smoker to preheat, melt the chocolate and butter gently over a low heat in a heavy-based saucepan. Take the pan off the heat, mix in the vanilla and sugar, and let it cool a little.

 Beat the eggs into the pan along with the almond meal and chopped pecans. Pour into a 24cm / 9 inch square baking tin.

Now it's time to smoke! Shake off any excess water and spread your wood chips over the hot coals. Ensure you utilize a ConvEGGtor for an indirect cook. The baking tin can now be put onto the cooking grill of your Big Green Egg smoker. Be sure to place it in the middle of the cooking grill, ensuring an even cook. Bake in your smoker 25-30 minutes, by which time the top will have set but the mixture will still be a little gooey.

Remove from your smoker, allowing to cool for 5 or so minutes. Serve warm with Ice Cream
Tips:
Don't have a dedicated smoker? No worries! You can cook these brownies on any barbecue, gas or charcoal. Just ensure it is set up for an indirect cook (refer to your owners manual) and for gas barbecues, you may need to utilise a smoker box for your wood chips
What flavour wood chips? There's lots of different flavours of wood chips on the market. We recommend using fruit wood, such as apple or cherry for this particular recipe. Fruit woods will typically give your smoke flavour a mellow and sweeter profile, perfect for this dessert!

Unlike smoked meats, the smoke flavour in this dessert will dissipate over time, so it's best to enjoy these brownies fresh! Still warm with ice cream is best!