5 Smoking Tips that will take your low and slow to the next level!
Whether you're a seasoned smoker, or just beginning your smoking adventure, check out these 5 tips to help you elevate your smoking game!
Check out our full range of smokers online or in store. We have an incredible range from premium suppliers including Big Green Egg, Hark, Green Mountain Grills, Traeger, Weber and Oklahoma Joe's so there's a wide range to choose from according to your needs.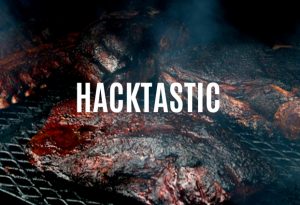 1. Different proteins like different types of wood 
In order to avoid an under flavoured cook, or an overly smokey flavour, you'll need to use different flavoured wood chips or chunks in order to control intensity. The wood smoking guide pictured below is a good indicator of which varieties of wood chips or chunks pair well with different proteins. We sell a wide range of different wood chips and chunks which can be found in store and online here.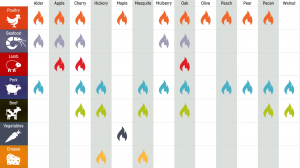 2. Hot or Cold?
Depending on your smoker, you have the option of Hot or Cold smoking. Hot smoking uses heat and smoke to cook your food rather than just imparting smokey flavour. This method is ideal for any sort of meat and fish, as well as vegetables. Hot smoked items don't need curing. Cold smoking is done with a temperature below 30°C and is a way to impart smoke flavour without cooking food. Cold Smoking is ideal for adding a boost to desserts, fruit, cheeses and more, including our smoked salt recipe! Cold smoking doesn't cook the food, so don't cold smoke raw proteins such as meat, fish, or eggs unless you are a trained professional. 
3. The right tools are important if you want outstanding results!
Basting throughout the cook, injecting marinade beforehand to maximize flavour and monitoring temperature while you're cooking to avoid an over or under cooked result requires a range of tools. You can pick up Hark's Smoking Accessory Kit which is perfect for beginners here, or pick up individual tools such as a.
4. Get saucy!
The best way to end up with juicy, flavourful meat is by seasoning your meat with a dry rub before smoking, basting with sauce during or after cooking. Some smokers swear by filling up a spray bottle with apple juice and spritzing it over their ribs every 30 minutes. Go with what you like! But remember, the more you baste and spritz, the more delicious the end product! We sell basting tools such as brushes and mops online and in store. 
5. Last but not least, save money! 
One of the best things about smoking, especially if you're still learning the ropes and figuring out what sort of wood smoke you prefer, is the fact you can use inexpensive cuts of meat, and turn them into something phenomenal! In fact, inexpensive cuts which take a lot of cooking produce the most juicy, tender, flavourful end product as the low and slow cooking process breaks down connective fibers and tissue and results in meat that's falling off the bone! Ask your butcher for cuts like shoulder, butt, brisket, and chuck, and enjoy smoking without breaking the bank.
Bonus tip
A muffin tin is the perfect way to serve condiments alongside your delicious smoked goodness at your next barbeque! Serve the perfect accompaniments to smoked meat such as jalapenos, pickles, mustard, ketchup, barbeque sauces and whatever else you'd like in each indent for a mess free, accessible condiment tray!