Product Description
Instant Shade Infina 3.5m Round Umbrella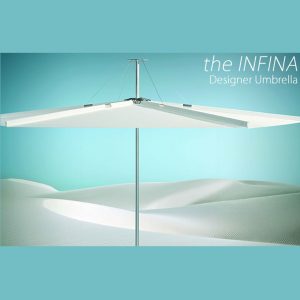 In comparison to the traditional centre post design, the Instant Shade Infina 3.5m Round Umbrella is a true trendsetter. It brings a balancing, minimalist look to your outdoor setting.
Breathtakingly beautiful, thanks to its flat profile, this visually restful umbrella is the perfect way to instill an artistic, modern attitude in the most contemporary commercial and residential settings. You may choose to pair the Instant Shade Infina 3.5m Round Umbrella with the Spectra Cantilever Umbrella to create an exceptional shade design
Instant Shade Outdoor Umbrellas are a family owned and run business with over 15 years experience in providing shade solutions. Priding themselves on providing great customer service, building relationships with clients and having a unique and innovative product range.
Instant Shade source only the best quality shade products from all over the world. We have long established relationships with key suppliers that enable us to control quality and ensure manufacturing to the highest standards.
Instant Shade Umbrellas for your home
Shade solutions designed to protect and enhance your outdoor lifestyle.
Instant Shade Umbrellas specialise in high quality contemporary design umbrellas suited to your outdoor lifestyle: gardens, courtyards & backyards roof tops BBQ areas patios pool and spa areas
Our umbrella frames are constructed from stylish anodised aluminium. The canopies are made of water repellant and UV-resistant canvas and come in a variety of stylish colours. We have a large variety of sizes and designs, from 2m to 5m sizes.
Instant Shade Cantilever Umbrellas


Side-post umbrellas perfect for pools, spas or anywhere where large flexible shade is required.
Cantilever umbrellas have the main post or mast mounted to one side of the canopy, allowing you to utilise the maximum amount of shade from the canopy. They rotate through 360-degrees and in some cases can also be tilted to block out low afternoon sun. They are the perfect umbrella for Pool and Spa areas.
Our New Zealand-designed cantilever umbrellas have a unique "nautical" feel and are the ultimate designer addition to your outdoor area. You will simply not find a better looking cantilever umbrella on the market.
The umbrella frames are marine-grade anodised aluminium. The canopies are made of water repellant and UV-resistant Premium Acrylic Canvas (five year warranty) and come in a variety of stylish colours. Sizes range from 2.7m Square to 4m Octagonal.
Instant Shade Wall Mount Umbrellas


Compact and flexible wall mounted parasols. European design & quality.
Sensible and stylish, our paraflex umbrella is a wonderful solution for tight spaces. Simply attach it to a wall and then use the clever simple click bracket for effortless operation and quick removal. From balconies to courtyards, this wall mounted umbrella provides shade in spaces where a conventional umbrella is simply impractical.
Instant Shade Café / Coffee Shop Umbrellas


From lightweight & portable to permanent enclosed structures, we've got the shade solution for your business.
The same umbrellas used by Cafes, Restaurants and Resorts all over Australia are now available for your home. Compare the quality to what you'll find in a hardware or outdoor "chain" and you'll soon see the difference: Contemporary Style, Commercial Quality and Great Value.
The umbrella frames are stylish anodised aluminium. The canopies are made of water repellant and UV-resistant long-lasting materials and come in a variety of stylish colours. Sizes range from 2m Square to 4.2m Octagonal.
At BBQ's and Outdoor we live and breathe all things outdoor entertaining. Not only do we stock the full range of Instant Shade Umbrellas and Accessories but we also have the expertise to take your Outdoor Entertaining Area from good to great!
BBQ's and Outdoor also stock an extensive range of Replacement Parts, to keep your barbecue performing at its best.
Can't find what you're looking for? If we don't stock what you're after we may be able to get it in as a Special Order item*. We have access to a comprehensive back catalogue of spare parts so if you're after something specific don't hesitate to reach out to one of our team members via phone or email (03 9462 1522 / thomastown@bbqsandoutdoor.com.au).