Cleaning and Maintaining your BBQ!
Cleaning and maintaining you BBQ is easy! Follow this BBQ guide to cleaning your BBQ, its straight forward and will provide you with years of enjoyment from your investment.

1. Keeping your BBQ grills clean after you cook is very important for BBQ maintenance. An easy step to keep your grill clean is by purchasing a 3 Sided Grill Brush. Shop our range of grill brushes here. Using this BBQ brush before and also after can ensure longevity out of your grills along with a clean cooking surface.

2. Check your drip pan/tray and see if the grease is built up and needs removing. If this drip pan is built up, either remove your aluminium drip pan or replace with replacement foil drip pan. For BBQ with large drip pans we would suggest using Fat Absorbent to assist in absorbing grease and fat.
3. Monitoring the level of grease build up in your BBQ cook box is also very important, high levels of grease can result in a BBQ fat fire. Using this great accessory from Weber Cook Box Scraper to clean it. Only use the cook box scraper when the BBQ is cold.
Simply lift the grills and place them somewhere safe. Then proceed to use the cook box scraper to scrape the grease towards the drip tray at the bottom of your BBQ.
4. Cleaning the grills and plates on your BBQ is easy. Simply place your cold grill grates in some warm soapy water. Usually in a bucket or a large bin and give them a scrub with the above 3 Sided Grill Brush. Make sure you give the grills and plates a good scrub top and bottom. Be sure to have to return them back into your BBQ and do a pre heat to try them out.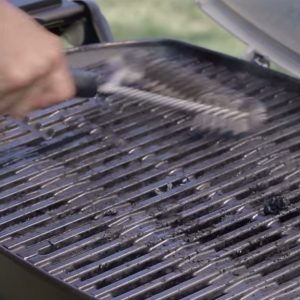 5. Cleaning your BBQ Burners is really easy. Simply grab a 3 Sided Grill Brush and rub back and forth across the burner tube. For really stubborn grease in the burner tube holes you can use a paper clip to clear any blockages.
6. Cleaning the inside of your cook-box and lid is easy. Again as above you can you hot soapy water and wipe over using a wet microfiber cloth. BBQ cleaners can be great, keeping in mind that these are not suitable for your cooking area.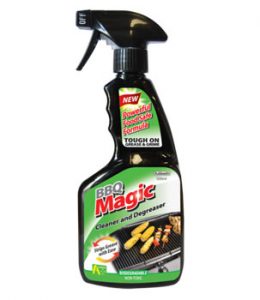 7. Checking and cleaning  your BBQ regularly will give your BBQ longevity. You can pop in-store and chat with our team more about how to successfully clean you BBQ.
Happy BBQ'ing this Summer season!