How to grill the perfect Steak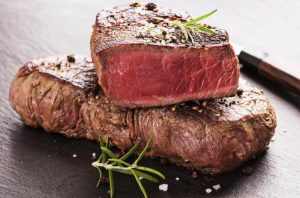 Step 1: The Cut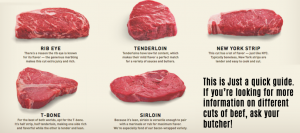 The rib-eye is the old school go-to for steak fanatics – it's well marbled, ensuring a tender and juicy end product. Other cuts available – which are featured in the guide above – include T-Bone for true carnivores, Tenderloin, New York Strip, and Sirloin. For the most premium steak you've ever tasted, you should try grilling with Wagyu beef, available in a range of cuts. Wagyu has been especially bred to be evenly and richly marbled throughout the whole steak – the meat is renowned for being fall-apart tender and juicy.
Step 2: Drying out your steak
One of the best features of good steak is the crusty, savory exterior. The best way to ensure a delicious crust is to dry your steak in the fridge. This draws excess moisture out of the exterior of the steak, so when you cook your steak you'll get an incredible crusty golden sear much faster than if you didn't dry it. The reduced cooking time means the meat stays juicy on the inside. It's simple – season your steak with salt and pepper (though not more than you usually would, as the salt isn't rinsed off, so make sure not to drown the steak in salt or it will be inedible), and leave it uncovered on a wire rack in the fridge overnight (or up to a couple of nights).  Make sure to rest the rack over a dish to make sure your steak doesn't drip onto other food in the fridge – it's also best to place it on the bottom rack of the fridge if possible.
Step 3: Seasoning
Using a rub is a great way to flavour your steak while simultaneously ensuring it develops the delicious crust you're looking for! We have a deliciously diverse range of rubs in store and online here. To use, simply rub your steak with the seasoning before grilling and enjoy! If you plan on drying your steak using the method above but you'd like to use a rub for flavour, follow the steps but replace the salt with the rub of your choosing. If you're cooking steak without ageing, simply rub it down before you whack it on the grill.
Step 4: Grilling
Time to get grilling! Need a grill to cook your steak on? Our range of premium barbeques has you covered – check them out here. Have a grill? Make sure to clean it well before you start cooking – a clean grill prevents burning, ensures an even heat transfer to the meat, and allows you to achieve the perfect char. A grill brush is a must have, and you can check out our other barbeque cleaning products here.
The first step is to take your steak out of the fridge around 30 minutes before your start cooking, allowing it to come to room temperature. Prepare your barbeque for grilling – you want it to be generating high heat – roughly 150 – 250°C. Lightly spray or rub your steaks with oil – don't oil your grill, that's a disaster waiting to happen! Place your steaks onto the grill over direct heat, and close the lid for a few minutes. Open the lid, flip the steaks (if they're thick, move them to indirect heat) and cook uncovered until the exterior is golden brown and the interior is your preferred level of doneness.
Achieving the perfect cook is all about the internal temperature of the meat. Thicker cuts will take longer to cook (Weber have a good rough guide to cooking time according to thickness here). A thermometer is essential, allowing you to monitor the internal temperature down to the perfect degree of doneness without cutting into the steak and losing the amazing juices! See our range here and our temperature guide below.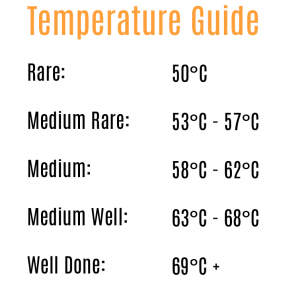 Step 5: Serving
Once your steaks are cooked through and have been transferred to a plate or cutting board, it's imperative that you allow them to rest for at least ten minutes, and up to 30 minutes before serving. This stops all the delicious juices from running out of the steak when it's cut, meaning the meat is far more flavourful, juicy and tender. In terms of how to serve with your steak, keep it simple! A great barbeque sauce is an easy way to ensure deliciousness, as is garlic butter or a drizzle of olive oil and some freshly chopped herbs. Side dishes that will work well depend on the rub you have used/sauces you are using. Chips are always good, but you can get creative – in summer, crunchy Asian inspired salads and couscous or brown rice go wonderfully, and in winter roasted veggies and mashed potatoes are a hearty, tasty accompaniment. 
Having steak for breakfast just because you can? Fried eggs, mushrooms done on the grill and roasted tomatoes will keep you going all day.
Whatever you serve it with, we guarantee steak cooked like this will blow your mind!